Chapter four: Pouran Oshidari, House of dreams
This chapter's living voice is offered by Fariba Pirghaibi on May 25, 2021 in Costa Mesa, California. The life story she shares unfolds in Karachi, Pakistan within the tradition of Zoroastrianism.
For this Podcast episode, click HERE.
Fariba will share the wisdom of hospitality by offering her living voice to gift breath to the life of her aunt Pouran Oshidari, whose reputation as "the mother from afar" spread far and wide for offering her home in Karachi, Pakistan as a loving refuge for young men fleeing Iran after the revolution in hopes and dreams of a better life. Fariba was born and raised in Tehran, Iran and migrated to the U.S. as a young adult. She holds a B.S. in Clinical Laboratory Science and has been working in a clinical laboratory at a Non-Profit hospital for over 30 years. She is passionate about sharing Zarathushtra's message with the world. She has been the he English section Editor in Chief of the California Zoroastrian Center (CZC) Journal, Chehrenama, for over a decade. She has been an active member of the Zoroastrian community in Southern California serving in several committes at the CZC, including the education committee, the membership committee, and the public relations committee. She has even served one term on the board of directors at CZC. She continues to dedicate her time to teaching teens Zoroastrian ethics and culture at CZC.
To connect with Fariba and the California Zoroastrian Center community, please go to please go to www.czc.org.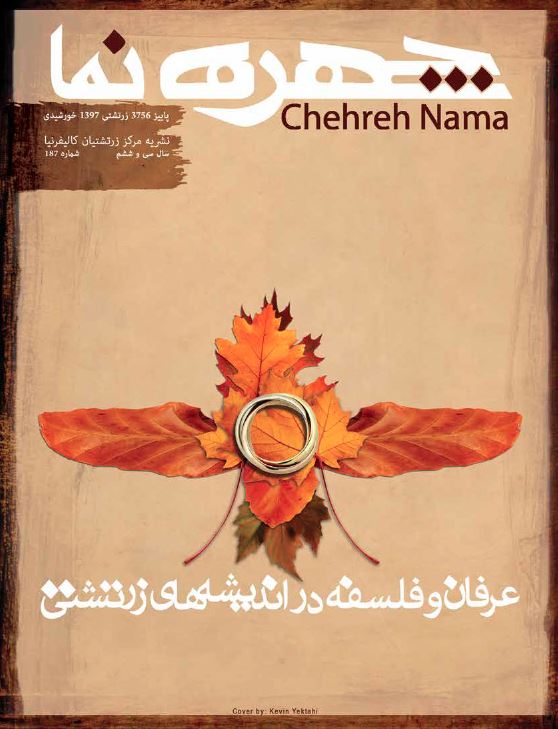 Transliterated Text:

atcâ tôi vaêm xyâmâ
ýôi îm ferashêm kerenâun ahûm,
mazdåscâ ahurånghô
â môyastrâ baranâ ashâcâ
hyat hathrâ manå bavat
ýathrâ cistish anghat maêthâ.

Translated Text:

And may we be among those
who make this life fresh!
You, lords of wisdom,
who bring happiness through righteousness,
come, let us be single-minded
in the realm of inner intellect.

(Gathas: Song 3 – stanza 9)

Summary Substance: A solemn prayer, an earnest desire to be among those who renovate life here in this world on rightful basis. It means continuous progress, ever-fresh happiness. Happiness comes when one is not only a master wise but also agrees in full with other masters of wisdom.

Pondering Points: Continuous renovation comes through cooperation of good master minds. It is ideal.
From THE GATHAS
and
Translation, Explanation, Interpretation, and Imagination by Dr. Ali A. Jafarey

zoroastrian.org/GathaSongs/song03.htm